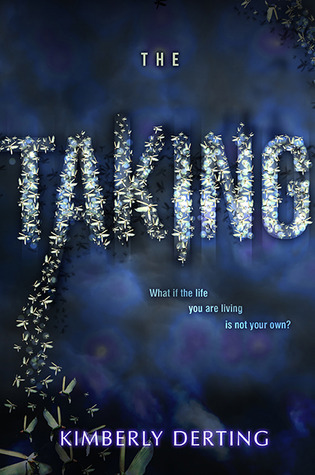 Title:
The Taking
Author:
Kimberly Derting
Series:
The Taking #1
Publisher:
HarperTeen
Date:
April 29, 2014
Pages:
357
Format:
Hardcover
Source:
For Review
Description:
"
A flash of white light . . . and then . . . nothing.
When sixteen-year-old Kyra Agnew wakes up behind a Dumpster at the Gas 'n' Sip, she has no memory of how she got there. With a terrible headache and a major case of déjà vu, she heads home only to discover that five years have passed . . . yet she hasn't aged a day. 
Everything else about Kyra's old life is different. Her parents are divorced, her boyfriend, Austin, is in college and dating her best friend, and her dad has changed from an uptight neat-freak to a drunken conspiracy theorist who blames her five-year disappearance on little green men. 
Confused and lost, Kyra isn't sure how to move forward unless she uncovers the truth. With Austin gone, she turns to Tyler, Austin's annoying kid brother, who is now seventeen and who she has a sudden undeniable attraction to. As Tyler and Kyra retrace her steps from the fateful night of her disappearance, they discover strange phenomena that no one can explain, and they begin to wonder if Kyra's father is not as crazy as he seems. There are others like her who have been taken . . . and returned. Kyra races to find an explanation and reclaim the life she once had, but what if the life she wants back is not her own?
"
Goodreads | Amazon | Barnes & Noble | Book Depository
***
Even though I've really enjoyed Kimberly Derting's other novels, The Taking ended up being a middle of the road read for me. Even though the premise sounded like something that would be perfect for me, there were little things about the characters and their reactions that really put a damper on things. That said, the ending was strong enough that I am very curious about where the story will go and will probably read the next one for that reason.
While I'd love to say it took a while, The Taking went sideways on me almost immediately. Kyra gets into a fight with her father and insists that he let her out of the car in the middle of a highway. And he complies. What? Who is the authority figure in this relationship? If I was throwing a tantrum, 18 or not, my parents would never have let me out on the side of a highway. I don't know anyone else whose parents would have either. It just started the novel out on the complete wrong foot for me.
View Spoiler »Then, almost immediately after this fight when Kyra wakes up 5 years later, she ends up falling for her now ex-boyfriend's little brother. Most of you probably know how I feel about sibling triangles. HATE. Hate, hate, hate. And then when you consider that from Kyra's perspective, she was dating her ex-boyfriend just yesterday that makes it so much worse. She was convinced she was going to marry him, and while high school relationships hardly ever last, even though she is upset that he's gone she moves on pretty quickly with HIS BROTHER. Ew. « Hide Spoiler
Aside from the issues I had relating to the character's actions, I did really like the plot. The mystery behind Kyra's disappearance was interesting, and I wan't expecting it to work out the way it did. Can't say that much more about it without ruining the plot, but it definitely saved the book for me.
Even though I was really frustrated with the characters throughout the entire novel, the plot did a pretty good job of redeeming the novel. I'll be able to look past my frustrations and pick up the next book because I'm genuinely curious about what will happen next.