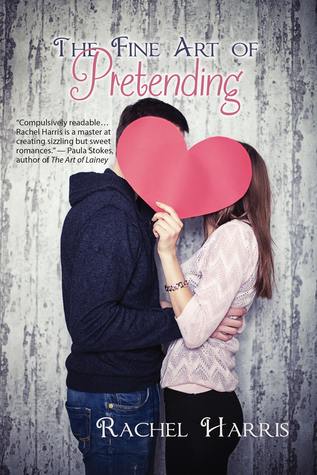 Title:
The Fine Art of Pretending
Author:
Rachel Harris
Series:
The Fine Art of Pretending #1
Publisher:
Spencer Hill Contemporary
Date:
September 30, 2014
Pages:
256
Format:
ARC
Source:
For Review
Description:
"According to the guys at Fairfield Academy, there are two types of girls: the kind you hook up with, and the kind you're friends with. Seventeen-year-old Alyssa Reed is the second type. And she hates it. With just one year left to change her rank, she devises a plan to become the first type by homecoming, and she sets her sights on the perfect date—Justin Carter, Fairfield Academy's biggest hottie and most notorious player.
With 57 days until the dance, Aly launches Operation Sex Appeal and sheds her tomboy image. The only thing left is for Justin actually to notice her. Enter best friend Brandon Taylor, the school's second biggest hottie, and now Aly's pretend boyfriend. With his help, elevating from "funny friend" to "tempting vixen" is only a matter of time.
But when everything goes according to plan, the inevitable "break up" leaves their friendship in shambles, and Aly and Brandon with feelings they can't explain. And the fake couple discovers pretending can sometimes cost you the one thing you never expected to want. "
Goodreads | Amazon.com | Barnes & Noble | Book Depository
***
If you've read the synopsis for this book, you may be thinking "been there, done that" and while that is true, it was still quite an enjoyable read. Even though we're dealing with several common plot points (best friend romance, commitment issues, daddy problems, "She's All That" makeover, fake-dating turned not-so-fake-relationship), the characters were likable and the writing style was fast paced and engaging.
Even though a few of the characters were a bit cliche (I'm looking at you Lauren), our main characters Aly and Brandon had that sweet, innocent-feeling chemistry that made it fun to watch them really fall for each other. The whole world knows these two have feelings for each other, but since Brandon's been more than a little slow on the uptake, seeing those feelings develop in an organic manner was awesome. Harris did a great job of making everything feel very genuine.
While this isn't a perfect novel, it's one of those fun, fast contemporaries that is just perfect for summer. When I'm reading by the pool, I tend to gravitate towards books that I can fly through without having to pay too much attention to world building, etc. and that is exactly what I got with The Fine Art of Pretending.
My only real complaint was the overly cheesy ending that left me rolling my eyes. We see these all the time with romantic comedy movies and I typically gag out loud because it's just so…disgustingly romantic in a completely unrealistic way. My husband loves that
It typically causes an eye roll of his own since I can't just "watch the show" without adding my own color commentary.
Anyway, if you're looking for a fun beach read this summer, The Fine Art of Pretending is the perfect kind of book to add to your list!