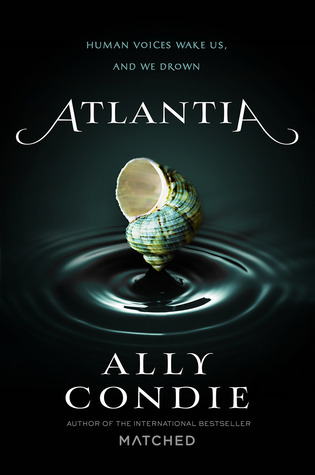 Title:
Atlantia
Author:
Ally Condie
Publisher:
Dutton
Date:
October 28, 2014
Pages:
368
Format:
ARC
Source:
For Review
Description:
"
Can you hear Atlantia breathing?
For as long as she can remember, Rio has dreamt of the sand and sky Above—of life beyond her underwater city of Atlantia. But in a single moment, all her plans for the future are thwarted when her twin sister, Bay, makes an unexpected decision, stranding Rio Below. Alone, ripped away from the last person who knew Rio's true self—and the powerful siren voice she has long hidden—she has nothing left to lose.
Guided by a dangerous and unlikely mentor, Rio formulates a plan that leads to increasingly treacherous questions about her mother's death, her own destiny, and the complex system constructed to govern the divide between land and sea. Her life and her city depend on Rio to listen to the voices of the past and to speak long-hidden truths. "
Goodreads | Amazon.com | Book Depository | Barnes & Noble
***
Atlantia was an ok read for me. I was expecting to be immersed in a world like the Atlantis from Greek Mythology, but Atlantia is just a clever name made up by a dystopian/post-apocalyptic society to pay homage to the ancient myth. And that's really where everything went sideways for me in this novel – the dystopian aspect.
Dystopians are hard because they're everywhere and I am so over it (I think a lot of us will agree on that). BUT if you can come up with a unique, captivating story set in a dystopian society, I'll probably still devour it. Unfortunately this just wasn't the case with Atlantia.
The story was alright, but not nearly as engaging as I wanted it to be. I was curious where the story would go since I was committed to it, but I wasn't compelled to pick up the book and keep reading.
The characters and world building were the same – pretty vanilla. Rio, Bay, the supporting characters, and the mythology incorporated to the story did nothing for me. They didn't detract from the novel, but they didn't really add anything either.
All in all, Atlantia was a story that I didn't mind reading, but there are so many other amazing books out there. I wanted to like it a lot more than I did, but at the end of the day it was just another boring, been-there-done-that dystopian.