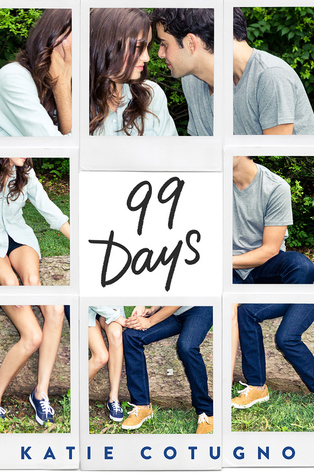 Title:
99 Days
Author:
Katie Cotugno
Publisher:
Balzer + Bray
Date:
April 21, 2015
Pages:
384
Format:
ARC
Source:
For Review
Description:
"Day 1: Julia Donnelly eggs my house my first night back in Star Lake, and that's how I know everyone still remembers everything—how I destroyed my relationship with Patrick the night everything happened with his brother, Gabe. How I wrecked their whole family. Now I'm serving out my summer like a jail sentence: Just ninety-nine days till I can leave for college, and be done.
Day 4: A nasty note on my windshield makes it clear Julia isn't finished. I'm expecting a fight when someone taps me on the shoulder, but it's just Gabe, home from college and actually happy to see me. "For what it's worth, Molly Barlow," he says, "I'm really glad you're back."
Day 12: Gabe got me to come to this party, and I'm actually having fun. I think he's about to kiss me—and that's when I see Patrick. My Patrick, who's supposed to be clear across the country. My Patrick, who's never going to forgive me. "
Goodreads | Amazon | Barnes & Noble | Book Depository
***
Ok, where do I even begin? I read 99 Days pretty quickly. It was a fast, light read and it's perfect if you want something for laying by the pool. There were some things I really liked about this one, and some things I really just didn't.
The Love Triangle is a Train Wreck
One girl. Two brothers. One kind of dumb girl, with apparently little self control, and two horrible, messed up brothers. Now, we know from the synopsis (and the beginning chapters) that Molly had a thing with both Gabe and Patrick. Oops. Is this a case of shit happens? Or is it something we're going to have to watch play out again? Or maybe she's just telling us about the past? I won't tell you which one since I don't want to spoil the book, but I can't tell you how many times I was shouting "Are you stupid?" and "WHAT ARE YOU DOING???" while reading this book.
Important Lesson: Slut-shaming is Wrong
Yes, kids. Slut-shaming is wrong. And we honestly and truly covered that in 99 Days. It made me so happy! Yes, Molly's actions were wrong. Does she deserve to be tortured while everyone looks at Gabe and Patrick as victims of some home wrecker? Hell. No. They were 1. just as guilty as she was and 2. Terrible people. As brothers, they should love each other and treat each other with respect. They should desperately want to avoid doing something that would truly harm the other. And do they? Nope. They don't give a f**k about each other and in a lot of ways, that's the real problem here.
Finally! Let's Talk F-ed Up Siblings
Now, when it comes to sibling love triangles, do you know how often the author addresses the fact that the siblings clearly suck? Pretty much never. So many, many applause for Katie Cotugno. It is so refreshing to see an author address the real issues between the siblings instead of just slamming the person they were fighting over. There are almost no words for how happy this makes me. Cotugno addresses the problems between Gabe and Patrick and I really need to give her props for that. Despite the bad situation in this book, we look at it from all angles. I almost always hate sibling love triangles, and Katie Cotugno did a great job of showing everything that is inherently wrong with them. 
Grieving Brothers Treat Our MC Like Poo
Molly is objectified so hard core (and that is kind of the point of the novel). I don't think either Gabe or Patrick saw her as a real person. Sayings along the lines of "my brother's girl" were present throughout the novel and really underscored that Molly wasn't allowed to be Molly with these two. She was a possession.  Obviously, this isn't cool, but again Cotugno uses the book to identify and explore the issue and does not glorify it.
In the end I'm almost not sure how I feel about this book. I hate the situation the characters were in, but I love how it was handled. Sibling love triangles can really be a push button for me, and it certainly was with 99 Days, but it's like Katie Cotugno had all the same issues with sibling love triangles that I do and explored everything that is wrong with them in this book.