Welcome to the 2012 Mythology Challenge!
The challenge is to read
10 YA or Middle grade novels
that incorporate any type of Mythology in the story line (Greek, Egyptian, Norse, etc.).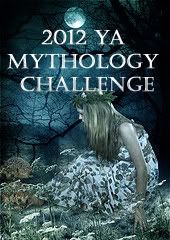 • The challenge will run from January 1, 2012 – December 31, 2012.
• You can join anytime by filling out the form below
• Books must be read in 2012
• If you are a blogger, you must write a sign-up post that links back to this challenge page (Please use the image above in the post).
• If you are not a blogger, just leave a link to your account on Goodreads, Twitter, Facebook, LibrayThing, etc.
Participants:
Tiffany @ For Those About to Read
Mauie (The Traveling Reader)
Alexa @ Alexa Loves Books
Sarah@Catching Books
Stephanie @Little Red Reads
KtTurner
Donna
DeAnna @SacredmOOn1
Nicole M @ The Reader's Antidote
Michelle @ Book Briefs
Carina
Jessie Harrell
Gothical@Gothical Book Reviews
Burgandy Ice
Cindy Ramirez
Lindsey @ Babies, Books, and Signs
CYP @ A Bookalicious Story
manda-rae
Darlene @ Darlene's Book Nook
blackwolf
Andrea @ The Busy Bibliophile
Amanda @ Pages Turned
Becky @ L'amour Books
Amy@Books, College, and Other Random Things
Benji @ The Non Reluctant Reader
Anna
Cricket@Little Library Muse
Jasmyn @ Jasmyn's Reviews
Christina @ Twin Dragons
Alicia
Haley Hawks
Nimuen
Sara Riouch
Persephone
Emma
Aleksandra @ Aleksandra's Corner
Amy @ Tripping Over Books
Lisa (is busy nerding)
misai torrefiel
Scarlet
Jennifer @ Jenaissance
Melissa @ Kaleidoscopic Reveries
Angie (Angels are Kids and Furkids)
Shelby
Rachel R.
Rachel
Kimberly @ Turning The Pages
Emily @ A Few Good Books
Yarethzia
Small Review
Bookish Hobbit
Kit Callahan
Debz @ Debz Bookshelf
Stephie @ nobody knows
Anna
Pages Unbound
Mazz @ Words on the shelf
Kathy
Melissa Morgan/The Book Addict
Tristan @ Reviews from the Hammock
Amber @ Fall Into Books
Candice (The Grown-Up YA)
DJ Librarian
Demi @ Breaking Bookshelves
Alex
Amanda
blackandwhitedreamer
Tai
Ricki @Reading Challenged
Jayme
Alysson
Mackenzie @ Oh, For the Love of Books!
schuyler
sofia
Natalie
Gina@My Precious
Jillian
Grace
Gemonymous
Jessi Larie
mia
Lynn @ The Whimsical Procrastinator